News 2019
June 2019
May 2019
April 2019
March 2019
February 2019
January 2019
MetalDays 2019, 24/6/2019 – 27/6/2019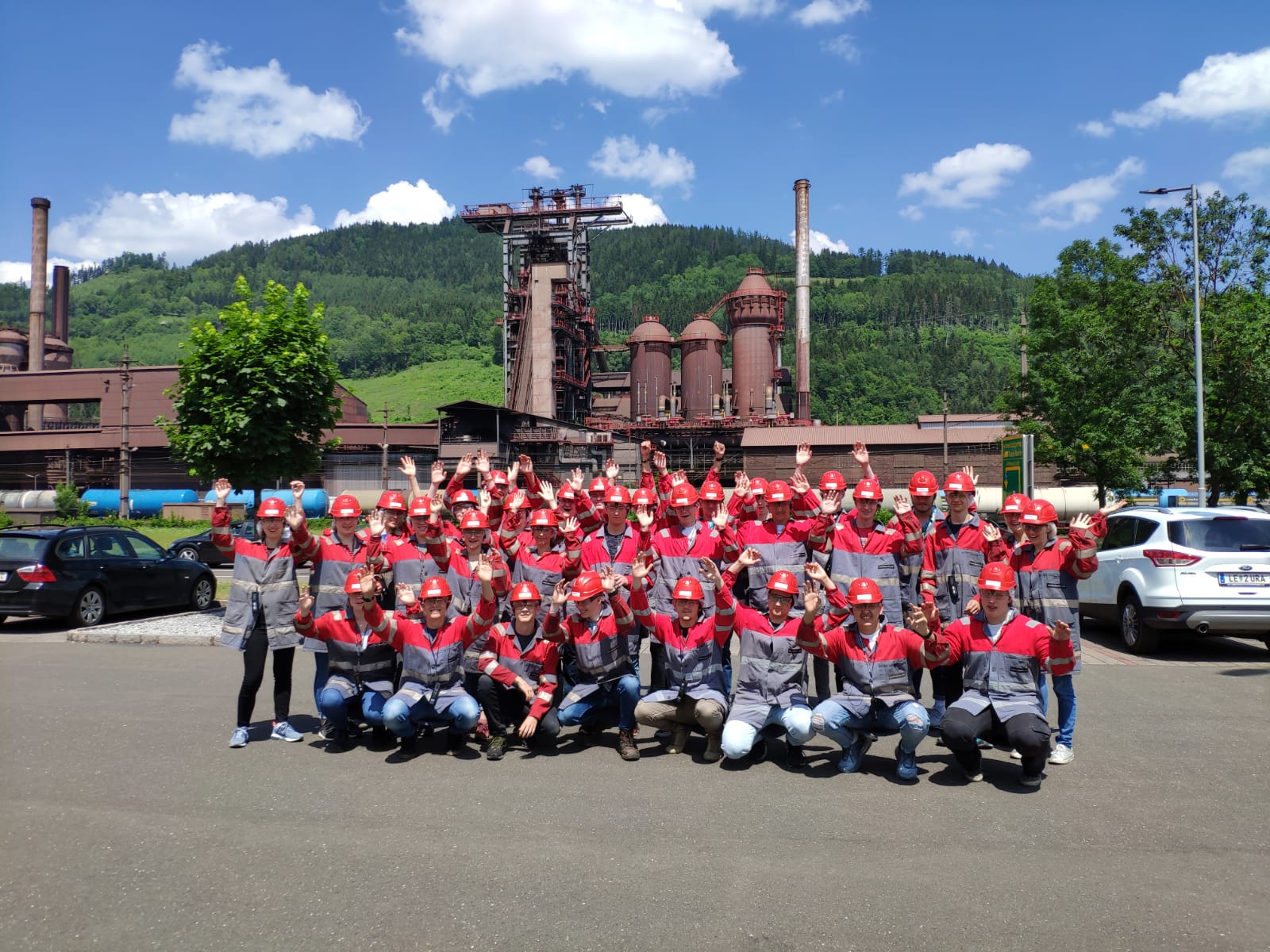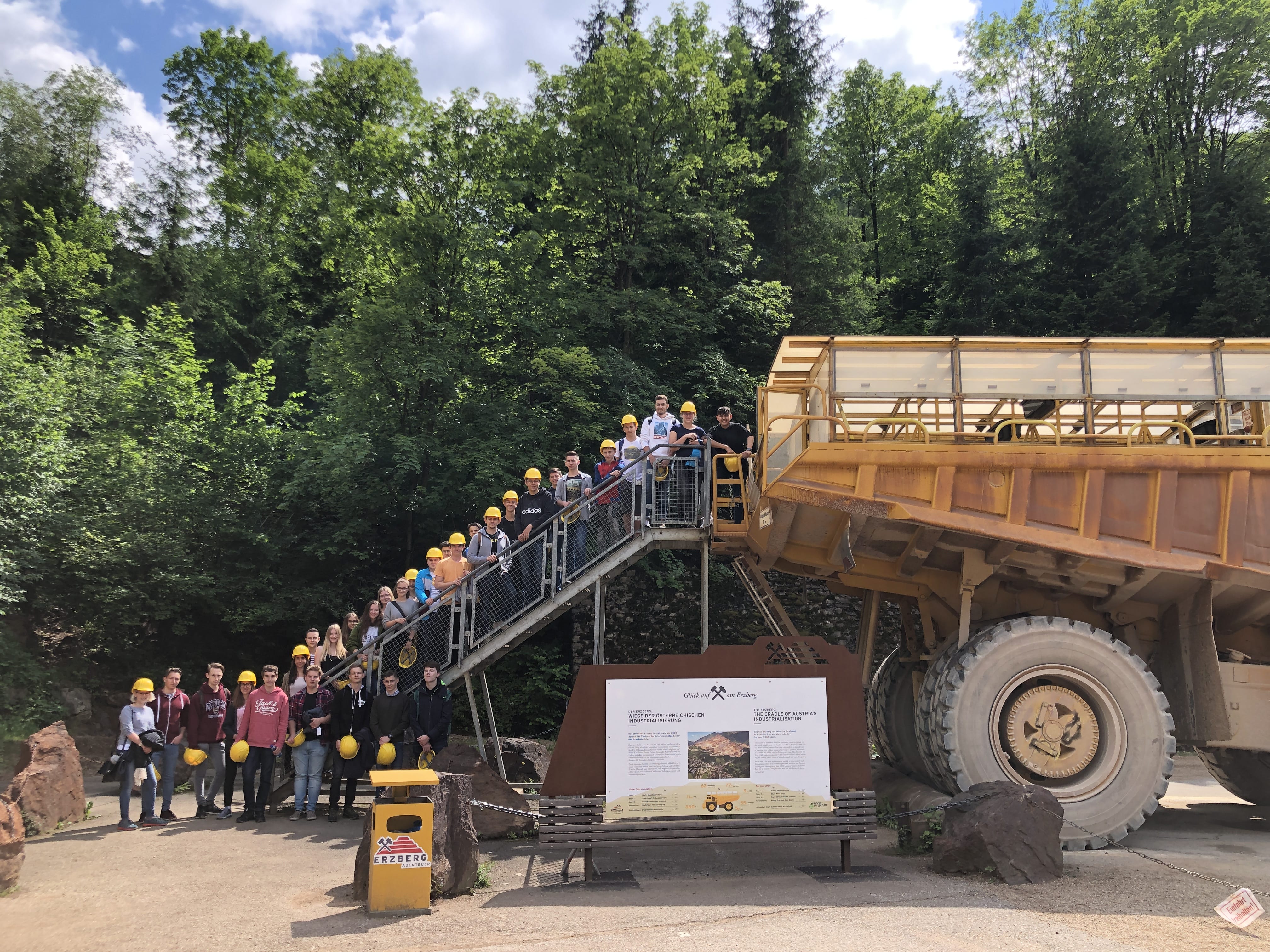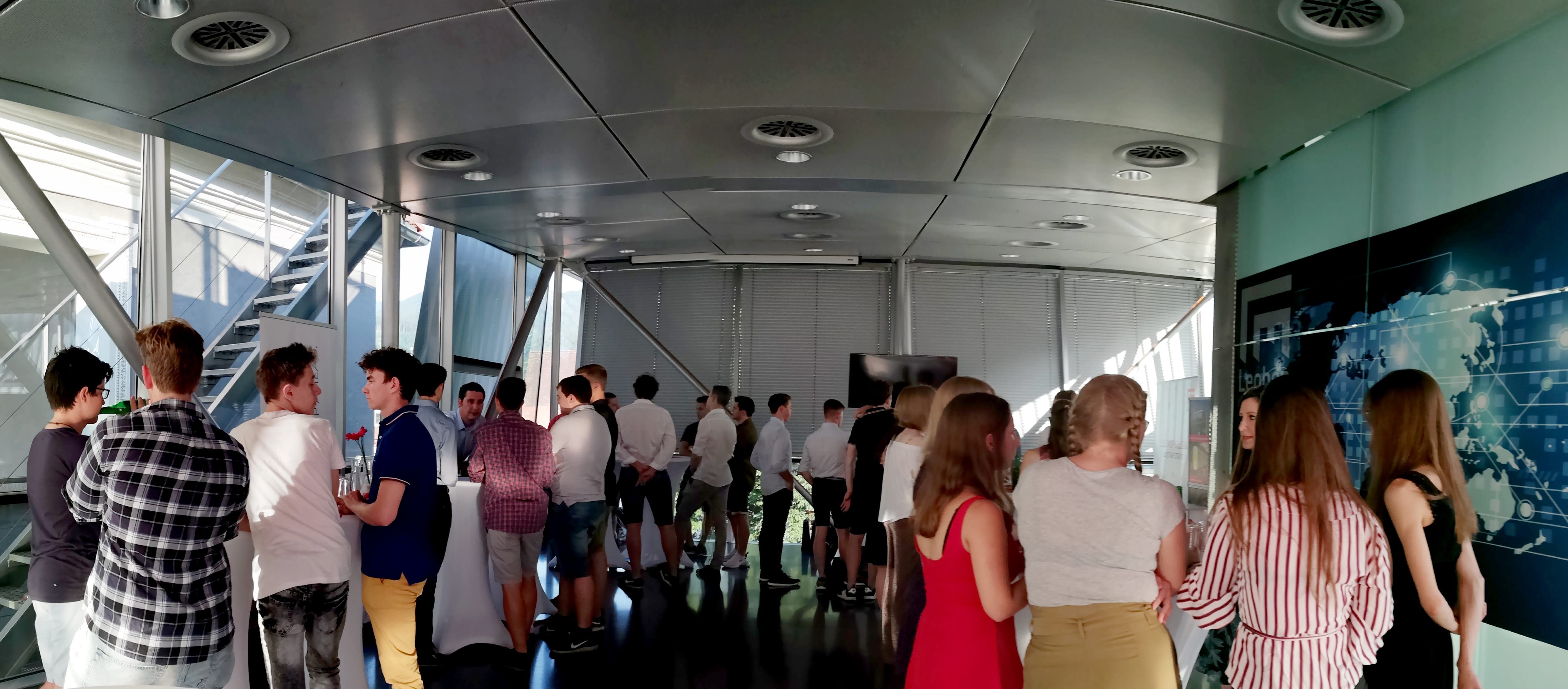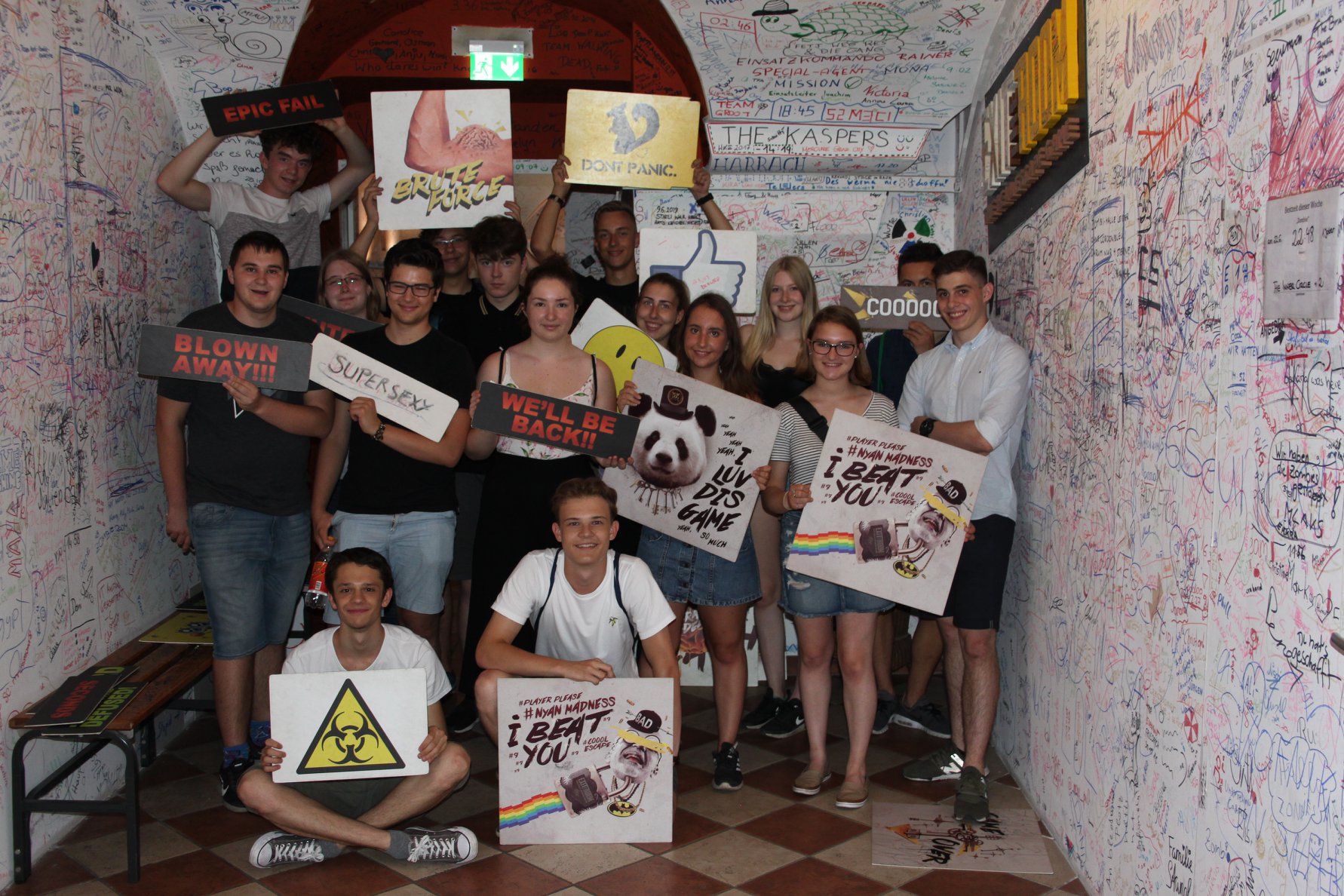 The MetalDays took place in their 10th edition this year and we could invite 30 students this year to come to Leoben and get to know the study program of metallurgy.
When all the candidates had found their way to us at the Montanuniversität, there was a short reception with Prof. Johannes Schenk and the deputy mayor of Leoben.
After this reception, the first excursion to the Erzberg took place. There the students had the chance to visit this impressive iron ore deposit and to visit the old mine there.
In the evening our traditional welcome BBQ took place and the students had the chance to get to know each other and some of the representatives of our chairs.
On Tuesday, our candidates got an introduction to the chair of nonferrous metallurgy and afterwards we visited the Voestalpine Stahl Donawitz. In the steel plant, they has the possibility to get great impressions from the steel industry in Austria and due to the high temperatures, they had to sweat a little.
In the evening, there was the Alumni night with a few alumni of the metallurgical study program. There our students had the chance to ask all their questions and get a better idea about what is possible after studying in Leoben. As always, this evening was a highlight for many of our guests.
On Wednesday, we had another introduction of the chair of metal forming and ferrous metallurgy. After a quick lunch at the Mensa, we travelled to Graz and our guests could prove themselves at Exit the Room.
In the evening, we had a very nice end of the day in the Asia Spa in Leoben.
On Thursday, the last day of the MetalDays there were the final introductions of the chairs of simulation and casting.
After a final lunch together, we had to say goodbye to all the students.
We hope all of our guests enjoyed their days in Leoben, and hopefully we will see each other again in Leoben.
Exkursion to thyssenkrupp Steel Europe AG Duisburg & METEC Düsseldorf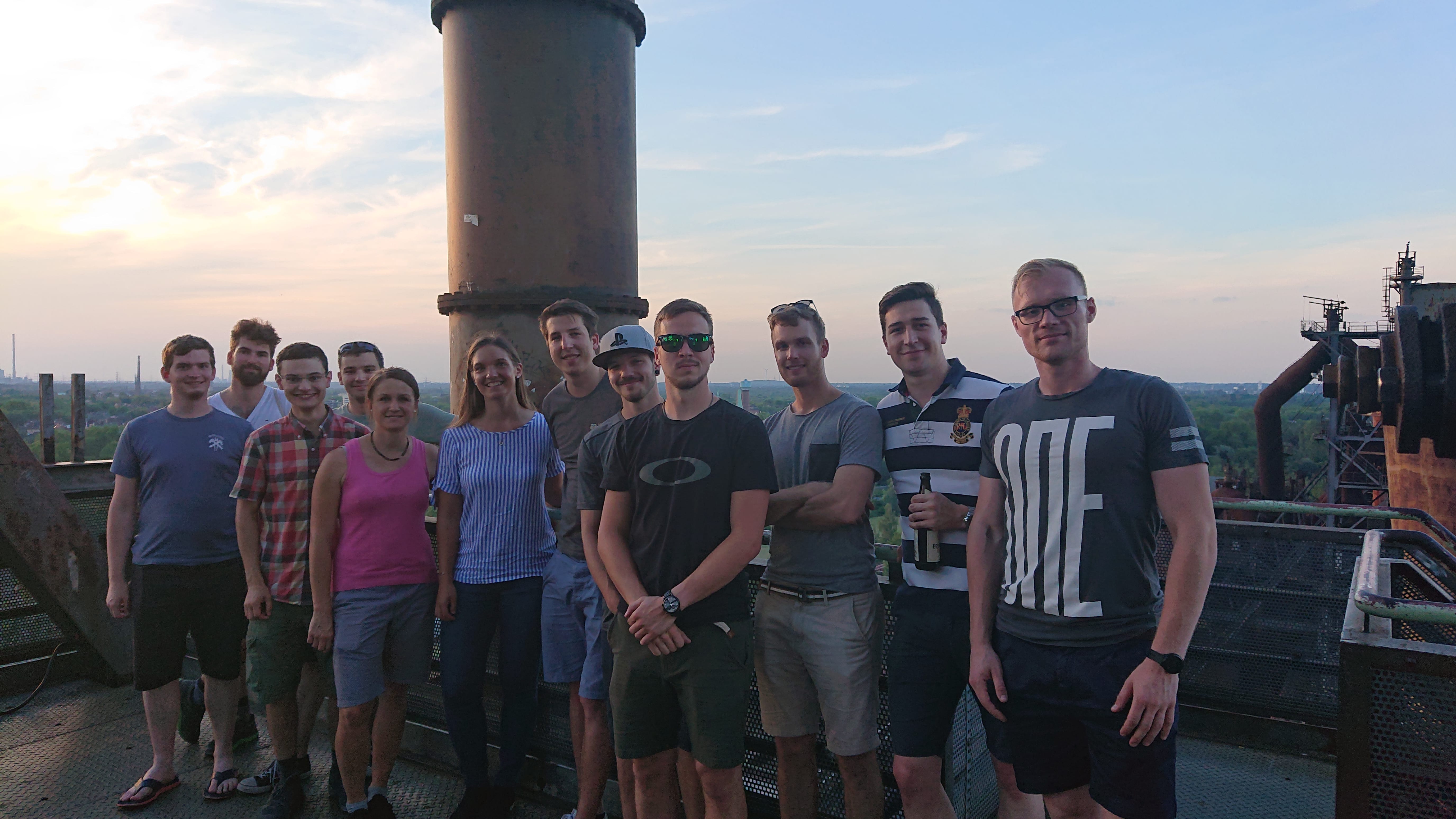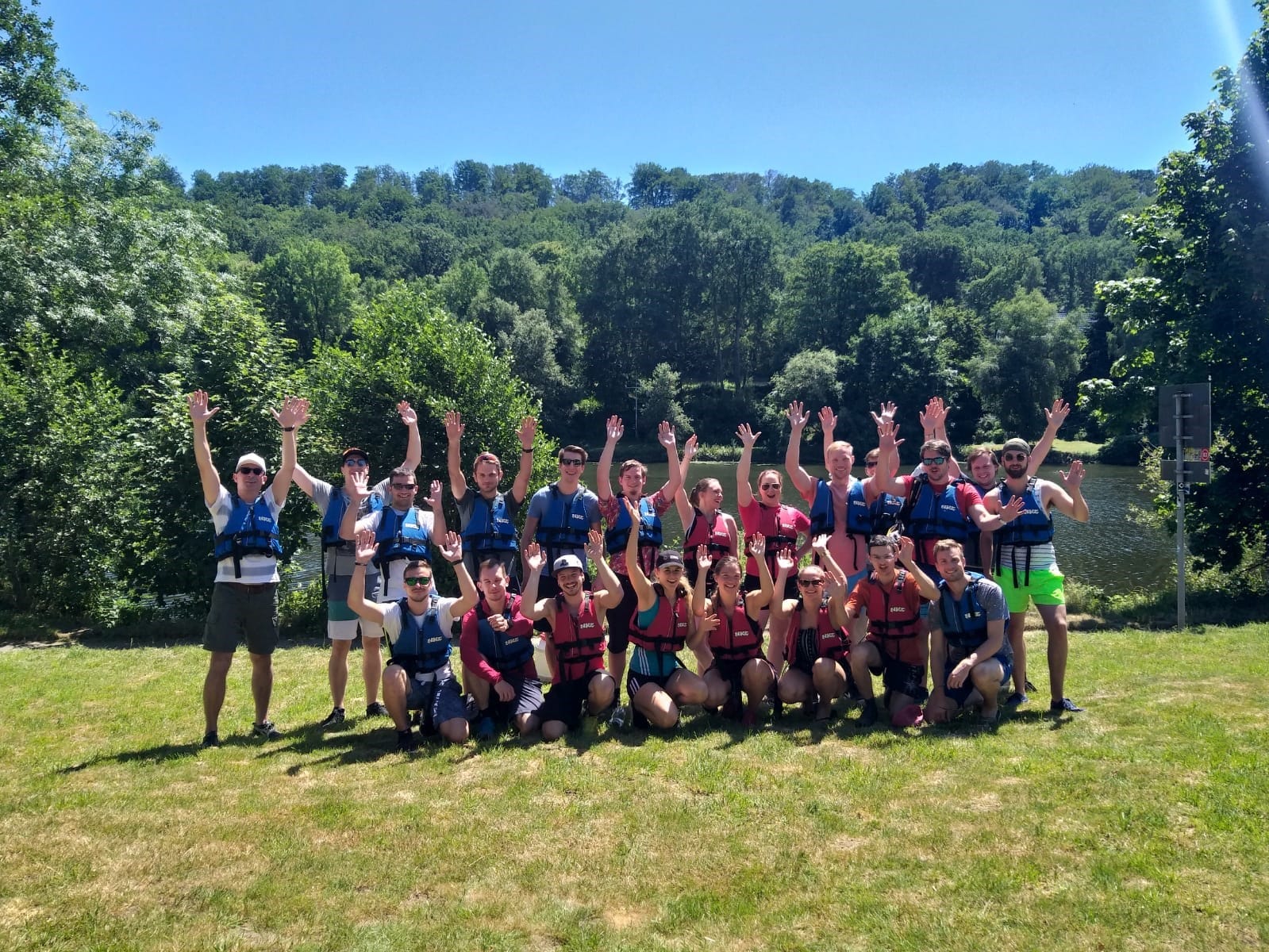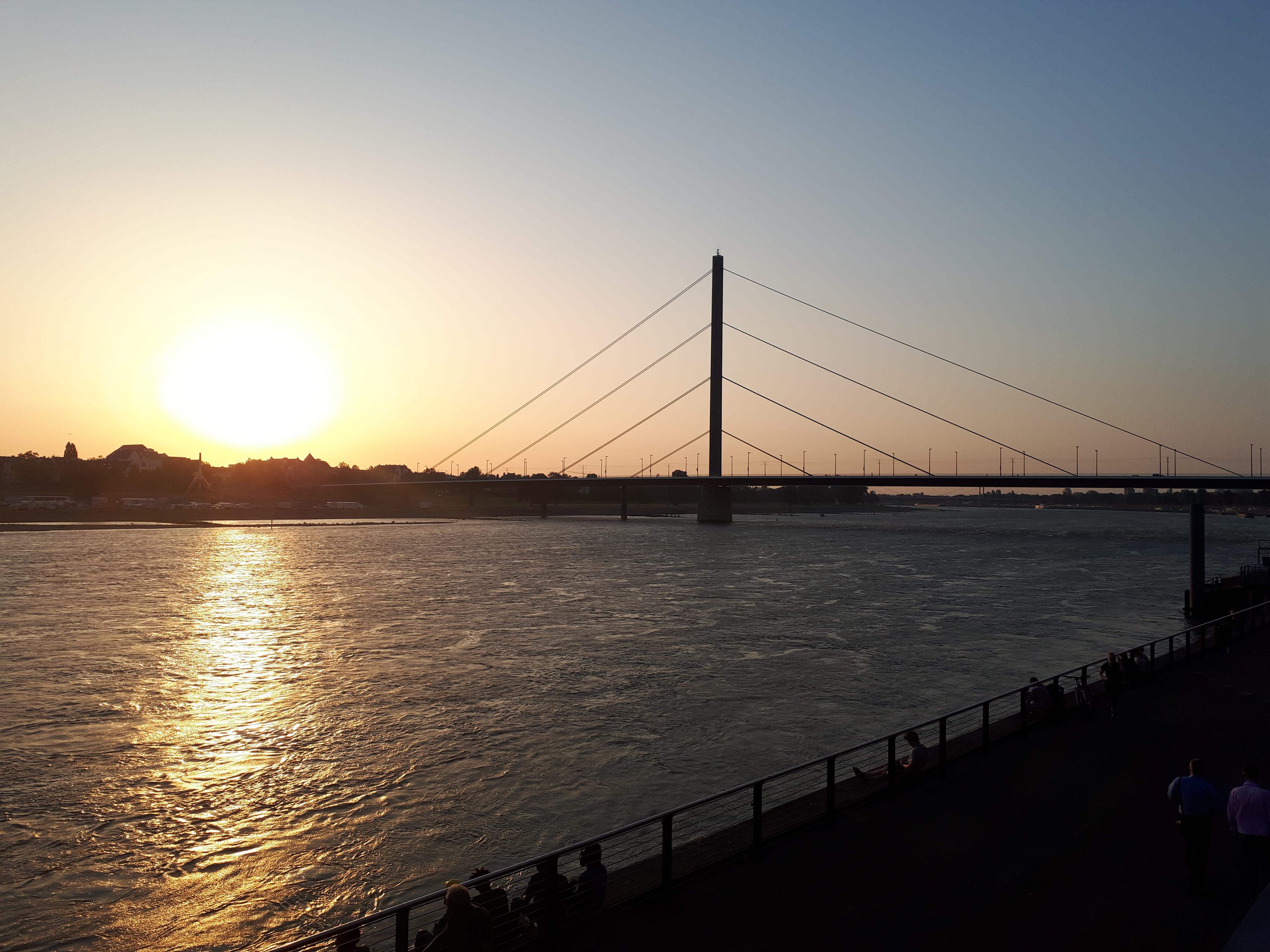 From 24th to 28th of June thyssenkrupp Steel Europe AG thankfully invited a group of 18 students from both metallurgy and materials science department to the Ruhr area companied by Katharina Kirchheimer.
After a bus ride starting in Leoben to the hostel in Duisburg on Monday the students discovered the nearby Landscape Park Duisburg Nord, where former industrial buildings from an integrated steel mill have been revitalized for public benefit. Especially climbing blast furnace 5 provides a perfect opportunity to gain a very realistic picture of the former production chain. With simply enjoying the view from above the whole group was comfortably attuned to the week.
Next day, a visit of the integrated steel mill of thyssenkrupp Steel Europe AG at Duisburg was planned. After a warm welcome in the visitor center a short safety instruction and a company presentation followed. The group was then guided through the plant by Mr Folker Baumann following the way from iron ore to steel products. The tour started at the factory harbour, where the unloading of a shipload of iron ore could be observed, followed by a visit of the blast furnace and the oxygen steel mill II. Standing in the impressive steel mill and observing the three BOF-converters at work gave the students the feeling of being really close to metallurgy and made the process clearly understandable for all participants. About noon an excellent lunch was offered in the restaurant "Schifferheim". In the afternoon a highly interesting lecture was given by Dr. Weinberg, head of the competence center metallurgy, covering topics around material and process requirements as well as economic and environmental considerations and future perspectives. It has been an extremely interesting day with intense discussion and fruitful exchange, which was closed by a delicious dinner in the Italian restaurant "Mezzomar" at the lake "Bertasee" at Duisburg.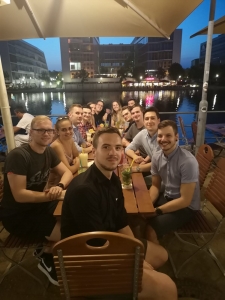 Midweek, the way led to Düsseldorf. Every four years one of the largest international metallurgical trade fairs – the METEC – takes place in the Düsseldorf trade fairground. This truly stunning exhibition with 72 500 visitors from 118 countries and 2360 exhibitors from all over the world provided a perfect environment for interaction with company partners, increasing knowledge from professionals in the metallurgy and casting sector and, of course, for scientific and social networking. For dinner, the group then changed to the Old Town of Düsseldorf to the city's oldest brewery "Im Goldenen Ring", where they enjoyed traditional meals in an authentic brewhouse atmosphere overlooking the river "Rhine". The evening was comfortably concluded on the Rhine promenade.
After two interesting days with lots of technical and professional input, a sporting highlight followed to better get to know the Ruhr area and to change the view away from industrial environment to natural scenery. A canoe tour on the river "Ruhr" was planned and led the group, starting from lake "Kettwig", through the green Ruhr area for about four hours. At noon we had a break at the cosy restaurant "12 Apostel am Staadt Essen", which gave enough power to finally reach the lake "Baldeneysee". The day was finished off in a relaxed and informal atmosphere at the "Seaside Beach Baldeney" having a delicious barbecue, playing some beach volleyball and football game as well as socially networking. For those, liking to taste a huge variety of different types of beer, the pub "Finkenkrug" in Duisburg was a perfect place for summing up a fantastic week in the Ruhr area.
Finally reached Friday, the group made their way home to Leoben with lots of lasting impressions, exciting information and new contacts in technology and business.
Special thanks to Stefan Cassel, Rico Gerstenberger, Matthias Weinberg, Alexandra Karcher, Lea Scharping, Andreas Reitz, Franziska Bailer, Lisa Golke and all their colleagues for the kind hospitality and for making this week in Duisburg and Düsseldorf so attractive and interesting for all participants!
June, 17th Visit of the BG/BRG Stockerau
Last Monday, the 17th of June, we had the pleasure to welcome 25 students of the seventh class of the BG/BRG Stockerau at our department and institute. The students had the chance to learn about the Montanuniversität Leoben and afterwards could listen to a presentation about metallurgy and the study program. In our presentation, they saw many videos, in which our recent research activity is explained and they had a chance to look into many of our laboratories.
We hope we could give a good overview of the study programme metallurgy and we hope they also enjoyed their tour through the
voestalpine Donawitz
in the afternoon.
June, 14th Diploma Examination
The Chair of Metallurgy gratulate Dipl.-Ing. Ulrich BRANDNER (with honors), Dipl.-Ing. Laura JEGLITSCH, Dipl.-Ing. Nadine KÖRBLER, Dipl.-Ing. Lukas MAIR (with honors), Dipl.-Ing. Mathias REPPER, Dipl.-Ing. Evelyn SOBOTKA and Dipl.-Ing. Philipp WEILGUNI for the succesfully completed diploma examination.
Open House on the 7th of June
The last open house day of the Montanuniversität Leoben of the school year 2018/2019 has taken place with great success.
Even though the time of the "Matura" is very stressful, many guest found their way to us in the metallurgy building.
In a relaxed atmosphere and with refreshing drinks our guests got insights into the world of metallurgy and the study program of metallurgy.
One of the most interesting features the metallurgy program has to offer is its versatility, not only during the time at university but also in the job life afterwards.
We hope we could convince some of our guests and we are looking forward to seeing many of them in fall with the new semester.
June, 4th – Visit of managers and researchers of United States Steel Corporation
On the 4th of June three managers and researchers of the United States Steel Corporation from US visit together with two colleagues from Primetals Technology our Chair.
The motivation for the visit was to meet Prof. Bernhard as a casting expert and Dr. Presoly concerning the characterization of peritectic steels.
Special interest was on the publication of Presoly u. Bernhard: "Influence of Silicon and Manganese on the Peritectic Range for Steel Alloys" presented at the AISTech and in the Journal "Iron and Steel Technology" 2017. A fruitful discussion and a lab visit was part of the visit
Open House on the 17th of May 2019
Three times each semester, the Montanuniversität Leoben offers an open house day for interested students where they can learn about our different study programmes and have a look around the university.
Again, we could welcome our visitors to the department in our foyer where we could show them the world of metallurgy with our great exhibits and with videos.
Not only could our visitors learn something about metallurgical materials, they also were convinced that with our study programme of metallurgy you have great career opportunities. Whether you feel at home in the international or national industry, an amazing career is waiting for you after you finish your metallurgical studies at the Montanuniversität Leoben.
We hope to see some of our guests again in October!
May, 16th – Birth of Owen You
Our colleague Dali became father of a cute baby boy on May 16th. All the best for the future as a young family, health and numberless lovely moments with your little wonder! Conratulations from the whole team of the Chair of Ferrous Metallurgy!
Business Run in Bruck a. d. Mur
On May 16th, the Business Run in Bruck a. d. Mur took place for the 18th time. Over 2640 participants were registered, 2552 finally took up the challenge and 2545 made it to the finish line.
The Montanuniversität Leoben participated with several teams.
From the Department of Metallurgy, there were teams from the Chair of Ferrous Metallurgy as well as teams from the Chair of Non-Ferrous Metallurgy.
10 runners from the Chair of Ferrous Metallurgy competed and reached top results as a team and especially outstanding individual results.
We congratulate all contestants for their achievements!
May, 6th - 9th – AISTech 2019, Pittsburgh, PA, USA
The AISTech 2019 was an iron and steel conference and exhibition, which took place in Pittsburgh from May 6th to May 9th 2019. Two of the around 500 presentations were held by researchers from the Chair of Ferrous Metallurgy. Anrin Bhattacharyya presented a paper about the structural change of coke structure in an experimental blast furnace and Lukas Preuler talked about the investigation of water droplet impingement during continuous casting.
Evaluation results of the winter semester courses (2018/19): The Chair of Ferrous Metallurgy Stands Out!
In the winter semester 2018/19, 194 courses were evaluated at the Montanuniversität Leoben, of which 48 were graded as "Excellent". 6 courses offered at the Chair of Ferrous Metallurgy proudly claimed their places in this list of excellence. The courses are -
220006 Iron and Steel Production (Christian Bernhard),
220039 Iron and Steel Metallurgy for IU and RT (Johannes Schenk),
220041 Iron and Steel Metallurgy II, Module 1 (Schenk Johannes, Spreitzer Daniel, Zarl Michael Andreas, Bernhard Christian),
220050 Production Routes for Selected Product Groups (Christian Bernhard),
220053 Seminar on Steel Process Engineering (Christian Bernhard, Johannes Schenk)
220055 Practical Aspects of the Continuous Casting of Steels (Christian Bernhard and guest lecturers).
We thank the students for their feedback on our teaching efforts.
May, 7th Visit of a group of former school inspectors
On 7 May, we had the pleasure to welcome a group of former school inspectors for compulsory schools at the chair for Ferrous Metallurgy from all over Austria.
The group was on a tour through Leoben and visited the Montanuniversität Leoben and the Metallurgy Building.
The group got a short introduction into the field of Metallurgy and they were presented the recent research topics of the chair. We thank the school inspectors for their visit and hope that they enjoyed their time in Leoben.
SCHOOL@MUL 2019
This year the SCHOOL@MUL project again took place at the Montanuniversität Leoben and from our Department the Chairs for Casting Research, for Nonferrous Metallurgy and for Ferrous Metallurgy participated.
At the Chair for Ferrous Metallurgy, we had visitors from elementary school, 3rd year and from the "Altes Gymnasium Leoben" we had visitors from the 2nd year.
After a short introduction the curios junior scientists had the chance to dig into the world of steel and learn about the process chain of steel.
There they learned about the way from iron ore to the steel product and they had the chance to touch and try some things themselves.
After the visit they not only know now about density and that it is different for every metal but also, that not every metal is magnetic. Furthermore, the students now have an idea about the different metals that have an impact on the specific properties of steel when combined with the raw iron.
Finally, the students had the opportunity to stamp a coin, which they could take home with them.
We hope all the students had a great time at the Montanuniversität Leoben and we wish them all the best for their future!
April, 25th Lecture at the HTL-1 Lastenstraße
This Thursday, Professor Schenk visited his former technical high school in Klagenfurt.
Second and fourth classes with a focus on mechanical engineering, electrical engineering and mechatronics participated.
The students were introduced to studying at the Montanuniversität Leoben and the great career opportunities.
There was also an exciting insight into the world of metals and metallurgy.
The high-tech metal industry in Austria and Europe has a strong focus on environmental protection and digitalization.
Topics such as emission-free steel production using hydrogen and Industry 4.0 are in focus.
We hope that the audience enjoyed the presentation and that we can welcome some of them at our MetalDays event and later as students at Montanuniversität.
April, 4th Diploma Examination
The Chair of Metallurgy gratulate Dipl.-Ing. Hans-Jörg BAUMGARTNER, Dipl.-Ing. Tong LI, Dipl.-Ing. Markus MAUNZ (with honors), Dipl.-Ing. Michael WENGER and Dipl.-Ing. Felix ZECHLING for the succesfully completed diploma examination.
March, 25 - 28, 5th VDEh Seminar in Duesburg, Germany
From March 25th to 28th, the 5th VDEh-Seminar on Ironmaking took place in Duisburg, Germany. Two of our PhD-researchers, Michael Zarl and Daniel Spreitzer and also one of our guest researchers, Takero Adachi, participated at those four days of lectures, teamwork tasks and a site visit to Hüttenwerke Krupp Mannesmann. One of the lecturers with the topic "Direct and smelting reduction processes"was given by Prof. Schenk. The seminar deepened the expertise of all participants in the field of ironmaking.
Open House Day on March 15, 2019
Last Friday the doors of the
university in Leoben
again stood wide open for all the interested students who want to start their career at the
Montanuniversität
. The Study Program of Metallurgy was represented with a contribution in our foyer as well.
We offered our guest a thrilling insight into the world of metals and of metallurgy as well as information about the study program of metallurgy itself. Our guests had the chance to ask all their burning questions and to enjoy drinks and our popular goodies.
We hope that our visitors enjoyed their day in Leoben and that we will see some of them again at the
MetalDays
or later on in fall at the Montanuniversität.
Infotag am 15.3.2019
Am vergangenen Freitag standen die Türen der Universität wieder allen interessierten Schülerinnen und Schülern weit offen. Auch die Studienrichtung Metallurgie war mit einem Vortrag in unserem Foyer beteiligt.
Dabei gab es sowohl einen spannenden Einblick in die Welt der Metalle und der Metallurgie als auch Informationen über das Studium der Metallurgie. Bei Getränken und unseren beliebten Goodies konnten die Interessierten alle Fragen stellen, die ihnen am Herzen lagen.
Wir hoffen, dass unseren Gästen der Tag in Leoben gefallen hat, und dass wir einige der Besucher bei den MetalDays oder dann später im Herbst bei uns auf der Montanuniversität begrüßen dürfen.
March, 9th – Lecture at the BeSt³ fair in Vienna
On the 9th of march the study program of metallurgy had the chance to present itself at the biggest educational fair in Austria. Christian Bernhard from the department held a lecture about "Metallurgy – with Innovation into the future". He explained to the audience not only, what metallurgy is but also, which possibilities metallurgists have. Aside from that, the audience gained a better insight into the topic of metallurgical materials as well. After the lecture, Michael Zarl and Birgit Hechtl explained a few details about the study program in Leoben and what chances future metallurgist have.
The study program of metallurgy at the Montanuniversität in Leoben is a very good choice for the future and we are looking forward to seeing a few guests of the fair in Leoben soon.

You can find the whole lecture on youtube under the following Link: https://www.youtube.com/watch?v=-Z6K1AP130E&list=PL2Y7rUIot2BR0iYBQS5p4H7v1AsSq3Bdg&index=35
BeSt³ Messe Wien 2019 – Me|tal|lur|gie, die - mit Innovation in die Zukunft
Am 9.3.2019 hatte die Studienrichtung Metallurgie die Möglichkeit, sich im Zuge der größten Bildungsmesse in Österreich vorzustellen. Christian Bernhard vom Department Metallurgie hielt dabei einen Vortrag zum Thema: Me|tal|lur|gie, die - mit Innovation in die Zukunft. Dabei wurde den Zuseherinnen und Zusehern nicht nur erklärt, was Metallurgie an sich ist, sondern auch welche Möglichkeiten es für Metallurginnen und Metallurgen gibt. Außerdem konnten die Zuseher einen besseren Einblick in das Thema der metallischen Werkstoffe gewinnen. Anschließend erzählten Michael Zarl und Birgit Hechtl noch einiges wissenswertes über das Studium allgemein und die Berufsaussichten für Metallurginnen und Metallurgen.
Das Metallurgiestudium in Leoben ist jedenfalls eine sehr gute Wahl für die Zukunft und wir würden uns freuen, einige Gäste der BeSt³ Messe in Wien bald bei uns auf der Universität zu begrüßen.
Für alle Interessierten ist das Video vom Vortag online unter folgendem Link verfügbar: https://www.youtube.com/watch?v=-Z6K1AP130E&list=PL2Y7rUIot2BR0iYBQS5p4H7v1AsSq3Bdg&index=35
March, 8th – Girls Unitech on the International Woman's Day
On the 8th of march the international woman's day took place and the Montanuniversität decided to host a special open house day just for girls. Rector Eichlseder and the vice rector Mühlburger welcomed the girls in our Aula. At the event there very many fascinating, female guests from the industry, the research area and students. After a short round of introduction, our visitors had the chance to mingle and ask all the representatives their questions. The evening ended with snacks and drinks. The study program of metallurgy was represented by Dipl.-Ing. Dr.mont. Martina Hanel from the industry and Dipl.-Ing. Nora Fuchs from the research area.
We want to thank for the organization of the event and are looking forward to seeing some of the guests later on at the university.
Girls UniTech am Internationalen Frauentag
Am 8.3. findet jährlich der internationale Frauentag statt und die Montanuniversität hat beschlossen, an diesem Tag einen eigenen, kleinen Infotag für interessierte Schülerinnen zu organisieren. Dabei wurde die Schülerinnen von Rektor Eichlseder und Vizerektorin Mühlburger in unserer Aula in Empfang genommen. Es gab viele spannende, weibliche Gäste aus der Industrie, der Forschung und Studentinnen. Im Anschluss an eine Vorstellungsrunde, hatten die interessierten Schülerinnen die Möglichkeit, sich mit den Gästen und Vertreterinnen aller Studienrichtungen zu unterhalten und ihre Fragen zu stellen. Bei Snacks und Getränken fand der Abend seinen Ausklang. Auch die Studienrichtung Metallurgie war mit Dipl.-Ing. Dr.mont. Martina Hanel und Dipl.-Ing. Nora Fuchs stark vertreten.
Wir bedanken uns für die Organisation der Veranstaltung und freuen uns, einige der Besucherinnen bald bei uns an der Universität begrüßen zu dürfen.
March, 4th – PhD examination Armin Paar
On Monday, March 4th, Armin Paar defended his PhD titled "Development of highly wear resistant indefinite alloys" at the TU Graz under supervision of Prof. Christof Sommitsch highly successful. Christian Bernhard acted as second supervisor. Congratulations from the Chair of Ferrous Metallurgy!
January/February 2019: Research stay at Polytechnique Montréal (Canada)
In January Michael Bernhard spent two weeks at the Centre for Research in Computational Thermochemistry at Polytechnique Montréal. In collaboration with GTT-Technologies (Germany) the group has developed the thermochemical software and database computing system FactSage. Within his research stay Michael dealed with thermodynamic modeling of the Fe-P and Fe-C-P systems based on new measurements by thermal analysis. The work was supervised by his PhD reviewer Prof. Youn-Bae Kang from Postech university (South Korea), who is already well known from previous collaborations with our Chair. With special respect to the continuous casting process of steel, the phase diagrams were completely reassessed using a sophisticated model for the liquid phase.
The time in Montréal was a great chance for Michael to develop a deeper understanding of computational thermodynamics and modeling of phase diagrams. The chair of Ferrous Metallurgy is looking forward to further collaborations and likes to thank the CRCT group and Prof. Kang for their kind hospitality.
Open House on the 8th of February
The first open house day of the year 2019 took place and was a full success for the study program of metallurgy. With refreshing drinks our visitors had a short overview over the study program. They also learned about what they can expect of studying metallurgy in Leoben. After a short introduction of the world of metals by Prof. Bernhard, also the structure of the study programme was a topic.
Of course, the promotion of the MetalDays 2019 was an important part at the end of the presentation.
If you missed the open house day, the next chance to learn something about the study program of metallurgy is the event "Girls-UniTECH" on March 8 at the University or the next open house day on March 15.
Infotag am 8.2.2019
Der 1. Infotag des Jahres 2019 war aus Sicht des Metallurgie-Studiums sehr gut besucht. Bei Getränken lauschten unsere Gäste gebannt, was sie beim Studium der Metallurgie in Leoben erwartet. Nach einer Einführung in die Welt der Metalle von Prof. Bernhard wurde auch auf den Studienaufbau näher eingegangen.
Abschließend durfte natürlich auch die Werbung für die MetalDays 2019 nicht fehlen.
Fall Du den Infotag im Februar verpasst hast, die nächsten Gelegenheiten, um mehr über das Metallurgiestudium zu erfahren ist zum einen das Event "Girls-UniTECH" am 8.3. direkt auf der Montanuniversität oder der nächste Infotag am 15.3.2019.
January, 31st – Excursion to voestalpine Stahl GmbH in Linz
On January 31st a group of 29 students of the metallurgy, mechanical engineering and materials engineering department visited the voestalpine Stahl GmbH in Linz. The trip started with a warm welcome by DI Dr. Peter Reisinger and DI Christian Fürst who both gave an interesting overview of the various fields of competences and the development of steel making processes. Afterwards the group visited the steel mill including BOF, secondary metallurgy and continuous casting machines. A round trip through special parts of the steel plant, like coking plant, blast furnace, raw materials warehouse and operating port perfectly showed the dimension of the steel plant in Linz, followed by a delicious lunch in the cafeteria. The afternoon tour started with an interesting overview regarding special products and processing steps given by DI Klemens Mraczek. As the rest of the day was dedicated to materials engineering as well as analytics, the group visited the development-center steel. There the students received a deep insight into forming technology, observing the hot- and the cold-rolling simulator. Finally, DI Andreas Schönauer showed us the automated sample preparation, various types of material testing as well as material analysis with a huge number of different methods.
Special thanks to DI Dr. Peter Reisinger, DI Christian Fürst, DI Klemens Mraczek, DI Andreas Schönauer and all their colleagues for making the day in Linz that interesting and attractive for all participants!
January 23rd – USI Leoben Eisstockturnier
3 teams of the Chair of Ferrous Metallurgy participated in the annual USI Leoben Eisstockturnier 2019. While "ESM – Inclusion" and "K1Met Ultimate" could not pass the preliminary round, team "Waterboys of ESM" (Reitbauer, Reisinger, Lammer, Mayrhofer, Preuler) enhanced themselves in each and every round, and made it up to the semifinals in the knock-out stages. Unfortunately, after a hard-fought battle, they had to surrender to the latter winners, but could win the match for the third place in a superior way.
Congratulations to this historical achievement.
January, 10th – Visit of the senior class of the HTL Leoben
On the 10th of January 2019, students from the senior class of the HTL Leoben visited the institute for ferrous metallurgy. After a quick lunch, there was an extensive agenda.
First Prof. Bernhard welcomed the students and he introduced his research topics and gave an outlook of the future of the metallurgical industry.
The next station was in the technical centre of the institute, where the students witnessed a melting experiment and even saw the casting. Later the students inspected the reduction metallurgical centre and our cellar. There the students learned about one of our biggest research topics, the field of hydrogen metallurgy.
Afterwards they had an introduction into the world of grain boundaries and grain structure, which are investigated at our institute with a high temperature laser scanning confocal microscope.
The last station was our metallography where they could experience at first hand the difference between a light microscope and a scanning electron microscope.
We hope the students enjoyed their afternoon at our university and we wish them all the best for their upcoming examinations!
Besuch einer Maturaklasse der HTL Leoben
Am 10.1.2019 besuchten Schülerinnen und Schüler einer Maturaklasse der HTL Leoben den Lehrstuhl für Eisen- und Stahlmetallurgie. Nach einer kleinen Stärkung gab es ein umfangreiches Programm.
Zuerst wurden die Schülerinnen und Schüler begrüßt und Prof. Bernhard gab einen kurzen Einblick in sein Fachgebiet und einen Ausblick auf die Zukunft der metallurgischen Industrie.
Danach ging es weiter in unsere Ofenhalle, in der die Schülerinnen und Schüler bei einem Schmelzversuch dabei sein durften und auch einen Abguss bestaunen konnten. Anschließend ging es weiter in die Reduktionsmetallurgie und in unseren Keller, wo den Schülerinnen und Schülern mehr über das Forschungsthema Wasserstoffmetallurgie erklärt wurde.
Danach wurden sie in die Welt der Korngrenzen und des Korngefüges eingeführt, die bei uns am Lehrstuhl mithilfe eines Hochtemperatur Laser Scanning Konfocalmikroskops erforscht und analysiert werden.
Als letzter Punkt stand an diesem ereignisreichen Nachmittag ein Besuch in der Metallographie am Plan, wo die Schülerinnen und Schüler hautnah die Unterschiede zwischen einem Lichtmikroskop und einem Rasterelektronenmikroskop erleben konnten.
Wir hoffen, die Schülerinnen und Schüler hatten einen spannenden Nachmittag bei uns auf der Universität und natürlich wünschen wir alles Gute für die Matura und alle weiteren Prüfungen.